Claudio Scardino was born in Lecce, Puglia, in the south of Italy. He studied art in Lecce and Florence where he graduated as a master of art and obtained a bachelor's degree in Applied Art. He taught at the Istituto Statale d'Arte di Porta Romana in Florence. He teaches three-dimensional art at the advanced courses of the Istituto Statale d'Arte di Porta Romana in Florence. Formed in the still prolific context of the art workshops of Florence, after more than fifteen years of intense work activity he started teaching at the Art Institute of Florence, in the field of Plastic Decoration teaching the discipline of "carving and gilding" wooden sculptures and ancient techniques. At renowned art galleries in Florence he taught the technique of Roman portrait sculpture.
As a child, Scardino began to read about the Greek myths with his maternal aunt who was sculptor. At eighteen, Scardino gained significant experience in sculpture painting and carving laboratories, working in his early career with masters in Florence. Amongst these were the masters Pietro Annigoni, Oscar Gallo and Silvio Loffredo with whom he became friends and whose workshops he attended assiduously. Throughout his career as a painter (altarpieces for a number of churches in Ferrara, portraits of civil and ecclesiastical authorities), as a sculptor (the large frame with angels and festoons at the Church of Sant'Agostino in Milan) and portraits of public and religious figures, as well as illustrations for national newspapers and watercolour paintings for art publishers. His career as a Multi Media Artist saw him perform with his surround sound installation at the Palazzina Liberty in Milan, at the historic Literary Caffè "Giubbe Rosse" in Florence, at the Media Library in Bologna, at the Cavoti Art Museum in Galatina, Lecce and at the Baustelle studio in Berlin. Scardino has been awarded major commissions from private, civic and ecclesiastical authorities.
His solo exhibitions include those at the Antinori Chapel in Florence, the Cavoti Art Museum in Galatina, Lecce, at the Resto del Carlino newspaper's display room in Bologna, at the Ferrara Chamber of Commerce's display room, at the display room of the Citifin Bank in Milan, at the Media Library display room in San Lazzaro, Bologna, at the Civic Contemporary Art Gallery of the Municipality of Ferrara, at the Giornale di Brescia newspaper's display room, at the Bishop's Room of the Cathedral in Prato, at the Eco di Bergamo newspaper's display room, at the renowned Pasticceria Cova in Via Montenapoleone in Milan, at the Literary Caffè "Giubbe Rosse" in Florence and in Piazza del Popolo in Rome.
His works have been displayed at:
The Atlantis Works Gallery in Boston, at the Spattered Column Gallery in New York, at the Marfa Texas Biennial, at the SCOPE Art Show in Miami, at the Studio Baustelle Berlin (the audio track Oblivium was used for the opening and closing credits of Rosenthal's video "The Secret of Life" and other short films), the Boddinale Film Festival in Berlin, at the Peanut Underground Art Gallery in New York and at the Art Basel Show in Miami.
2009 the famous journalist Morley Safer (60 minutes on CBS) appears in the newspaper Corriere della Sera with one of Scardino's art works.,Action painting The Shield of Perseus in Piazza Santo Spirito Florence
2010 performative action 'reverse times' historical bar Le Giubbe Rosse Florence, performative action 'The Shield of Perseus' historical bar Le Giubbe Rosse Florence,performative action 'The Shield of Perseus' historical bar Le Giubbe Rosse Florence, performative action 'The Shield of Perseus' Mediatheque of Bologna
2011 An Honorable Mention at The Boston Online Biennial.
2012 An Honorable Mention at the Windsor Whitney Online Biennial, New York; Art Takes Times Square, New York; The Temppeliaukio Church, Helsinki.solo exhibition at the Cavoti art museum with visual work, sculptures and Paintings, an audio installation Oblivium, an action painting The Shield of Perseus
2013 The audio track "Oblivium" (composed by Claudio Scardino) used for the video 'The Secret of Life' and other short films by Barbara Rosenthal. The Boddinale Festival, Berlin; The Peanut Underground Art Gallery, New York; The FNAC Bookstore, Seville, Spain.
2014 The artist featured at the Biennial Roadshow Marfa Exhibition, Texas and at Art Takes Miami , Miami.
2015 Audio installation "Hunt" at the Giubbe Rosse in Florence, audio active performance with Barbara Rosenthal in Piazza del Popolo, Rome; SCOPE Art show, Miami.
2016 Audio installation "Birds" at the Studio Baustelle Berlin;
2017 Performance Art Installation "Action performance Silver schield" at the entrance to the Venezia Giardini Biennial.
2018 Presentation and projection of the video "Hunt" at Palazzo Marchesale in Arnesano, Lecce.
2020 The Covid pandemic halts the dual exhibition by Barbara Rosenthal and Claudio Scardino due to be held at the Academy of Fine Arts in Lecce, the "Surreal Photo Morph" exhibition by Barbara Rosenthal and the S-culture and the Audio Installation Rudis by Claudio Scardino; the INVIZIN Cultural Center in Chieti and at the Factory Grisu Cultural Center in Ferrara.
2021 Art Basel Show, Miami.
2022 Voice Words 04 in Brussels, Belgium and the Biennial Project at the Venice Biennial.
Scardino's works have been widely published and have been reviewed in magazines such as APARTE, the official magazine of the PECCI Museum of Contemporary Art in Prato, national newspapers and leading international art websites. Scardino has worked for many years as a teacher of art at institutions such as the Istituto Statale d'Arte di Porta Romana in Florence. Scardino's works are preserved in museums, churches and in public and private collections in Italy and abroad.
What they say about Claudio Scardino:
Morlei Safer                writer, journalist at 60 minute CBS NETWORK
Criss Stanke               curator and art historian
Paschal Marshel         artistic director at KIk art site
Giuseppe Billi              member of the board of the Presbyteral Commission of the Cei
Franco Patruno           Director of the Institute of Culture "Casa Giorgio Cini" in Ferrara
Barbara Rosenthal      American avant-garde artist, writer and performer. 
Marlene Sarroff           writer, artist
Gino Sirni                    journalist at the newspaper             Eco di Bergamo
Antonio della Rocca    journalist at the newspaper             Corriere della Sera
Margò                          journalist at the newspaper             la Nuova Ferrara
Umberto Marescotti     Bishop of Comacchio
Francesco Pallara       sociologist, art historian
Gianni Cerioli               writer and art critic
Jacopo Chiostri            writer,journalist at the newspaper    il Sole 24ore
Antonio Caggiano        journalist at the newspaper              il Resto del Carlino
C. Michael Smith         clinical psycologist   
 Lucio Scardino            art historian
Marlene Sarroff 
Australian writer/artist
Finding ways to define reality and finding yourself immersed in it, is the big question of our time.
As the 21st Century progresses and technology advances, the more we will become entrenched in unreal worlds, such as the internet, television, or video games. So when an artist such as Claudio Scardino comes along, we sit up and take notice. For here is an artist who takes his inspiration from life and reality and whose aim is to achieve reality as closely as possible.
Continually searching and striving for undiscovered territories, Claudio Scardino seeks to convey his ideas and inspirations through performance.
His performances are not staged in a theatre but in more informal ways, sometimes with a participating audience or simply in the street where the artist works on his drawings and paintings. The people in the street, the onlookers, become the unsuspecting audience while the artist, to some extent, becomes the performer. While performing in such a public way, he is fully concentrating on the work at hand in order to find himself immersed in reality.
His performance art is multidisciplinary, using video, poetry, sculpture and performative action, and actually creates a space, generating an energy where the participating audience is unavoidably jolted into staring reality in the face. Drawing from early mythological myths and the history of art as the subject matter, the artist then exhibits a light, humorous, playful exchange with the audience who then find that they cannot avoid finding themselves immersed in the reality of the moment, as they are called to action and jolted into reality .
Claudio Scardino is multifaceted artist, not only working with performance art, but also with sculpture, painting, drawing, and lithographs while also being a scholar of Baroque painting and medieval sculpture and art history.
Throughout his career there have been no limits to his inventiveness, combining art with life, he looks for the most appropriate situations and then dives into the reality for then to be completely immersed in it. Through his performative actions he looks for ways to disrupt the conventional ideas of performance and audience.
Like a time traveler who captures parts of our history and beams it right to the present moment, in such a multitude of inventive ways that time and distance tend to merge into one. This is where Claudio Scardino's performances really do become a magical tool.
Claudio Scardino as seen by Barbara Rosenthal
It is interesting to set up these series of shows and installations with the sculptor and audio artist Claudio Scardino because of the various ways we both see 2-dimensionality and 3-dimensionality. We are both concerned with space and what fills the space, but we each approach space, in terms of OBJECT as well as EXPERIENCE is different ways, ways that compliment each other when seen together.
OBJECTS in SPACE:
Claudio Scardino is primarily a sculptor. He produces 3D physical objects that the viewer can see from all sides. They are gravity-centric, and rest upon bases that are within the sizes comfortable for the viewer to negotiate around on all sides. Scardino's objects don't interact with the outer ambient space; the viewer contemplates the objects in relationship to their own personalities.
Barbara Rosenthal is primarily a photo-based artist, trained in painting. She distorts her individual, 2D photographs, placing their flat shapes variously within the negative space of a framed rectangle to give the illusion that they are wafting or floating within a large, empty space beyond the frame.
EXPERIENCE
ScardinoSound, Claudio Scardino's electronic audio, fills the ambient space occupied by viewers. His equipment yields sound that sometimes is melodic, sometimes referent. It brings various states of being and moods to the space. They exist in a real place, and viewers can move about while listening. He works in Surround Sound, so as viewers move, they experience variations in the audio. Thus, Scardino controls the outer-space, but viewers are free to move within it, either alone or with others.
Barbara Rosenthal's experiential works take place onstage, in a darkened theatre, either as video or performance. Her photographs either move and twist on a flat screen, simulating deep space, or are projected onto her own white-clad body, as if she moves among them. She does not control the outer space, her viewers sit among an audience of others, watching space manipulated on a screen or stage.
I am very pleased that Claudio invited me to do another series of installations, talks, readings, video, audio and performances, this time by both of us in collaborative sets, as he had first set up for us in 2015. I have been very happy to include his ScardinoSound in several of my mediated works since we first met on Facebook several years before that.
The art, myths and symbols of Claudio Scardino: by Chriss  J. Stanke

It's amazing how only an artist can be as mysterious as someone who creates art as a display object which, even if you understand his artistic language and a little about the infinite themes, such as the images, the myths and their connections, is only partially decipherable, just as in the new forms that he creates.
Claudio Scardino is a true artist; he does not allude but he conceptualises without boasting about his choices of life and of his career, he draws, creates forms, composes, adds colour, summarising in his art everything, throughout time, that he holds dear, free from constraints and with total freedom to perform.
The use of the best manual skill (by line-up) applied to his artistic creations does not hinder his creativity; in actual fact his manual skills become part of a game of construction, the clay that comes to life in his creations.
His heritage is formed by studying various religions and mythologies, with his knowledge deriving from the study of different cultures as well as of the history of art, which is his preferred terrain for expressing his style and carrying out research which all provides him with an inexhaustible source for toying with creativity, built around mental associations without bounds or around images, while he proceeds without interruption in new and various metaphors, a little of that to-do culture, the flow of life that self-repeats itself. Despite the circumstances, however, Scardino can be considered a play maker who light-heartedly and ironically narrates the topics of existence and of the aspirations of ethics: his paintings, the very picture frames that encompass them, his polymorphous choices of various types of material, are all stories to be unravelled with patience and with knowledge, while they play around with the public and bring immense happiness.
Looking for an artist like Claudio Scardino in the centre of busy Milan would seem out of place. But that's exactly where he lived and his peaceful studio with its imposing paintings on the walls alongside his polymorphic sculptures create a David style environment. I went to see him two or three times in the nineties and we immediately became friends.
We chatted about a wide range of things, from concise appraisals of paintings and sculptures and problems with various methods and then gradually on to all of the current cultural and political matters.
What struck me right away was his concern about objectivity; defining shapes, colours, proportions, before even starting any artistic project. These objective factors alone are an irrefutable premise, a sound start.
Going back to his work, one realises that this pure objectivity is already offering intelligent foresight and important points of reference.
One should consider, for example, the "INVERSE PERSPECTIVE", that was in common use with artists in medieval times, that of increasing or decreasing the size of the subject depending on whether they are close or further away, just as the fifteenth century perspective taught us, whereas here it depends on the standing of the sacred or profane figure being depicted.
Jesus Christ and the saints appear to be gigantic next to the offerers and contractors who appear to be dwarfs or babies.
Another element that Scardino has not forgotten is the relationship between the artist and his product.
The working method that is applied to create his images from wood, marble o wax.
This all goes towards telling us that the final image is always influenced by the method of working.
The final aim of Claudio Scardino's research, as with any artist, is the definition of style.
This all helps us to understand that the final image is always affected by the method of working.
The final aim of Claudio Scardino's research, as with any artist, is defining style. What characterises him most, however, is his commitment to shape and adapt his own style and here his doctrine unfolds just as his versatility does.
Because Claudio Scardino is also a scholar of medieval sculptures and of Baroque paintings, in particular Caravaggio, observing completely different cultures, attitudes and feelings.
From a close examination of his sketches we can observe how repressed eroticism expresses itself, even in his earlier paintings, particularly when dealing with nudes, both as an unconscious movement towards a subliminal work and as a cultural event.
And developing symbols which, while being based on traditional interpretation, Scardino revitalises, such as the spheres that can be found in some of his sculptures and that hide a dormant erotic impulse, an unconscious symbolisation of a hidden desire.
A panoramic view of his still-life works that can be found in some of his paintings, treated with acuity, even symbolic, that characterises the way Scardino treats this theme, by seemingly removing it or sublimely exhilarating it in his still-life works, giving us the sensation of a troublesome hidden desire in his nude works.
The emotions and characters are conveyed by gestures or by the arrangement of the symbolic images, rather than by words.
It could sometimes be the design of the garments, with the game that presents itself as a web that captures all of the participants in one single scene, unveiling such a potential dynamism.
Almost as if he was drawing historical typology, Scardino delves into the characteristics of art, that so-called primitive art, ancient or pre-Roman Greek sculptures, and even here his attention to technique is priceless.
It is, though, the iconographic teachings from Ferrara (the so-called "scuola ferrarese") that Scardino basically conveys by invoking that fascinating medieval mentality with its biblical and imaginary references. This is why the tree of life becomes a symbol of constant transformation, of cosmic exaltation, amongst others, with his symbolisation of Greek myths or the symbolic staff of spiritual power which is then placed into the palm of the hand. In conclusion, one comes away from studying Claudio Scardino with a greater knowledge and with a greater understanding.
This nearly impossible comprehension allows us unrestrained interpretation.
CLAUDIO SCARDINO TOUR IN ITALY  by PASCHAL MARSHEL
I met Claudio Scardino at the Biennial exhibition at Spattered Column Gallery New York, the Windsor Whitney Museum Biennial Project . He was drinking champagne. Then I met him again in New York at one of his exhibitions. Our friendship continued on Facebook and we met up again in Europe, in Paris at an exhibition being held by a mutual friend of ours, in Berlin and then in Ostende where we spoke about art over a plate of oysters and a bottle of Bordeaux. We have been friends now for a good ten years. He is now holding an exhibition, in collaboration with Barbara Rosenthal, at the Academy of Fine Arts of Lecce in the city of Lecce, in the Puglia region of southern Italy, which will then move on to Tormareggio near Chieti at the INVIZIN Art and Culture Centre and then onto Ferrara in Emilia Romagna at the GRISU' FACTORY where it will end on March 6th.Barbara Rosenthal is
Claudio Scardino is primarily a sculptor, as well as a sound-maker and he uses a pair of instruments for controlling the space while producing surround audio, leading to an alternative form of sculpture.
Art is a marriage between the ideal and reality. An artistic creation is a branch of craftsmanship. Artists are craftsmen, while at the same time they are intellectuals and, from time to time, academics. Art thrives on our senses and it talks to our senses. It plants its roots in the physical and tangible world. A monolithic orthodoxy which has left artists in a ghetto of predictable comments and which has isolated these artists from new ideas.
A craftsman, sculptor and musician. Claudio Scardino is a priceless individual as he has a cheerful character. And he is a curious kind of artist. He possesses qualities that seem to be lacking nowadays in other artists.
According to the maestro, despite the constant rhetoric, curiosity, dreams and experimentation are born from the same mother. The art of sculpture, he says, "has a huge responsibility. It can be of a more dynamic nature. Or it can be more thoughtful. But it is still a silence that invades space". Claudio Scardino "OBSERVES" the silent language, his sculptures celebrate the mysterious and merciless power of the gods". The art of sculpture and music is, therefore, the art of offering the space to its kin in order to interpret and "illuminate" the world.
On top of his cheerfulness then, the works of the maestro are endowed with a mysterious and terrific nature. This occurs when artists manipulate, dismantle and recompose the material at their disposal. "Ever since I was very young, I've felt this attraction for matter in space. It really started as a game, creating and developing, and then, later in life, I discovered that sound is like marble, with the power to create heat". As he doesn't work for the general public but only for personal satisfaction, his creations are, above all, of a mainly experimental nature.
Pascal Marshel 
Chromatic Transparency by Franco Patruno
In the history of art, the idea of a dreamlike and materially characterized landscape leads to various roads and different and diverse meanings. In the era of skyborne quotations, reappeared Renaissance and metaphysical memories, especially that of De Chirico.
The Transavanguardia movement, especially with regards to Ghia, favored Neo-expressionist ghosts with a transgressive technique as its outline. Claudio Scardino has long been wavering between a figure that draws emotions from a humanistic point of view and from a metaphysical perspective.
Finally, in my opinion, being less influenced by the "dogma" of the subject at hand, Scardino has experimented with the layering of color, with a taste of organic matter and its "lightness". Relating to "heaviness" and "transparency" is not an easy task, but the latest work by Claudio Scardino (who is tangentially a landscape painter) exceeds the boundaries of technique with refined texture, bright colors and highly textural glazes, all in a soft and diamond texture.
It is his rediscovery of color, colors which he loves for himself and not for any particular literary meanings, that is the test of his technique that leads him to conceive the media of canvass or paper as a space without any previous history needing to be conquered.
This is the poetical aspect which is evermore autonomous and which is finally free to express itself.
Disordine Organizzato - Firenze
Venerdì 15 gennaio 2010 ore 17,00 Performance multidisciplinare "DISORDINE ORGANIZZATO" Videosculturadinamica. Video, poesie, sculture, azioni performative di CLAUDIO SCARDINO. L'evento è curato da Massimo Mori e si terrà presso il Caffè Letterario "Giubbe Rosse" - Piazza della Repubblica 13/14r Firenze - Claudio Scadino è docente presso L'Istituto Statale d'Arte di Porta Romana a Firenze. 'Disordine Organizzato' è una riflessione che Scardino compie sul gesto creativo e le sue vicissitudini. Dal primo nucleo alla sua definitiva stesura si fronteggiano i due colossi dell'atto creativo: Caos & Ordine, Dioniso & Apollo.
Patrocinio del Comune di Firenze
Info: tel. 055 212280 - Fax : 055 290052, info@giubberosse.it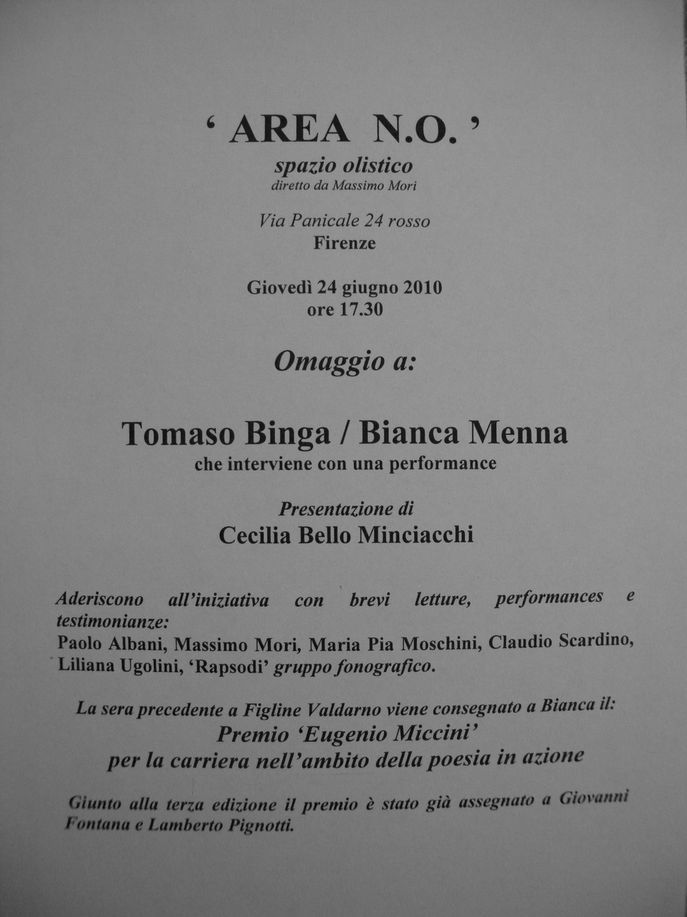 PAESE SERA
Roots that grow towards the sky as if they were capturing the immortal vibrations and echoes of time, of art, of humanity and its legends, its heroes and its divinities. This is the interpretation of the works of Claudio Scardino who, from tomorrow February 1st until February 19th at the "Pietro Cavoti" Art Museum in Galatina, will be presenting the contemporary art exhibition "Oblivium", an event organized in association with the People's University "Aldo Vallone" and with the patronage of the Galatina town council, of the Provincial Authority of Lecce and of the Mediterranean Culture and Tourism Association of the Puglia Regional Authority. The curators of the exhibition are the writer Daniela Bardoscia and the academic Francesco Luceri, both of whom pay close attention to territorial social and cultural dissemination and who narrate the works of Claudio Scardino, whose symposium performances become a corridor of overwhelming and insuperable mirrors for the summoned hotbed of souls while forcing you to observe, to delve into our purest intimacy and to place into the hands of our wise sculptor that piece of ourselves that hides the embryo of a lost and confused artist. "Participated" art, as described by the curators of this exhibition themselves, leads to distancing ourselves from daily routines with ferocious presumption and to becoming a fragment of all things. "Oblivium" will offer a unique context and one that is new to the Puglia region. Claudio Scardino will, in fact, present his innovative artistic activities directly from the "historical literary café" Giubbe Rosse in Florence, as an artist that is considered to be at the historical forefront, as well as a sculptor, a multimedia artist and painter, possibly not that famous in our parts, despite the fact that he is from the regional capital Lecce. He has, however, achieved enormous success in the rest of Italy and even more so abroad, as highlighted by the recent awards received from the "MoMM" Museum of Modern Media and by his participation at the Boston Biennial. The artist will take his art to what is the artistic institutional center par excellence in the Galatina Municipality, namely the Pietro Cavoti Civic Art Museum. At 6pm tomorrow February 1st, the inauguration day of the exhibition, Scardino will present an unpublished audio installation and an action painting that will involve everyone who wishes to partake in the creation of a brand new sculpture. The artist from Lecce will consequently guide the public in the rediscovery of the classics, adapting them to the modern perception of the new millennium, urging the spectator to fully understand the character displayed and to act on his behalf, by way of a technique of experimentation and of artistic research that is especially designed to draw the spectator closer to art itself. Afterwards, Claudio Scardino will inaugurate the exhibition in the presence of the Chief Magistrate.